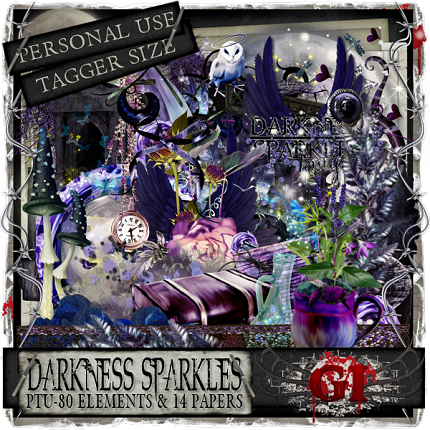 New PTU Kit: Darkness Sparkles
Another Creative Team Inspiration Kit(s) Collection, which is
created and inspired by the fabulous
Tonya Damit with Tonya's Temptations♥

Thank you so much for being a part of my Creative Team Tonya Damit ​♥,
I can't say how much your touch to my work makes my world light up and your constant quirky goofy personality makes me smile!

Darkness Sparkles PTU Kit:HERE
Gothic Inspirations Store
http://gothicinspirations.com/shop/




Each of my Creative Team was given a quote by me in the ways
that I see them in as a person, or per their personality quirks or
their creativity and/or style through, and the inspiration for that
mini kit would come from them and created by me :)

Tonya's Temptations




My Inspiration Quote in Tonya
"She touches stars with her wings of sorrow and lights up the night with her light."~Gothic Inspirations Quotes

Tonya's Inspiration to me:
An "Angel type theme, a bit of a dark angel who
hides secrets of her soul within her.
While there is the darkness of the night around her,
there is lightness and sparkle wherever she goes". Tonya Damit♥
Name of the kit - "Darkness Sparkles"




The FTU Sampler/Mini Kit can
be picked up on my blog HERE