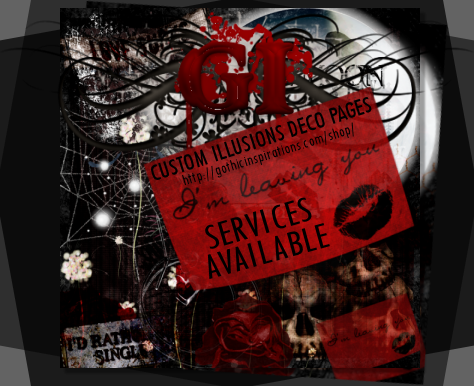 NEW Service is now available: CUSTOM
Gothic Inspirations Illusions Deco Pages.

Art Deco pages are the newest and most fun new trend. You take your graphics and express yourself in a page of artwork, no rules, just expression with a passage how you are feeling when you created it. Have something In mind? Let me create it for you.

Tell me the details, lets have creative fun!!
HERES your INFO:
Price runs $5.99 Each + includes one free 1st
advertisement of you and your site as requested.

Email me with proof of purchase and details: admin@gothicinspirations.com

1. Available in Page (3600x3600) or Tagger Size

2. Same Day Service (Within 24 hours, usually 12)

3. Pick 1 - 3 Kits of mine you want me work with. One (1) QTY Page will be created with what you choose for one purchase.

TELL ME WHAT YOUR LOOKING FOR (Details below) OR TO do it my way, JUST GI FREEYSTLE.

4. Any Color Changes or Feelings you want incorporated?

5. Details: Theme, Gothic, Holiday, Random, Events, Personal or 100% Freestyle it.
If you'd like your name incorporated let me know.

6. See more info on ownership rights included in file.
You can view my T.O.U. Here w/ additional details included in file.

7. Each deco page comes with a passage from me (Gothic Inspirations)
that explains how I felt when I created it and will displayed as a service available example on my blog and websites. These can be graphic or adult passages with strong creative emotional strength, you do NOT have to post them unless you chose too.

8. You can NOT make any monitory gains off your custom page.
You may share your custom graphic, on your websites, use it as announcements, adverts, for social networks and shares, you may print it, make albums for non profit and personal use.

9. All Deco page come with my address/Copyright illustrations copyrights and can not be removed.

10. All Custom Deco Pages are NON REFUNDABLE for any reason unless I haven't started it. These are digital formats.

One (1) Deco page is made from your purchase. Examples below.

Deco Page Example 1: (Darkerside of Valentines
GI FREESTYLE PASSAGE:
*When I created this particular page, I felt anger beyond all emotions...as if Valentine's Day could not get any more Commercial, or FORCED AFFECTION seems more appropriate...when you get it no OTHER DAY...when realization sets in as IF only those things could break my patience level or enough for any sore heart, we just HAVE too add CRAZY ass Moon to the mix, no regular MOON mind you, but a FULL MOON! Happy V-Day 2014~let the crazies out please.



Deco Page Example 2 (Enchanted Hearts):
GI FREESTYLE PASSAGE:
*When I created this particular page, I felt a bit lost, combining my feelings with darkness is always a second nature to me, feeling broken and loved at one time, is a always a possibility in my world...but time just continues to ticks on, all I can do is embrace it.