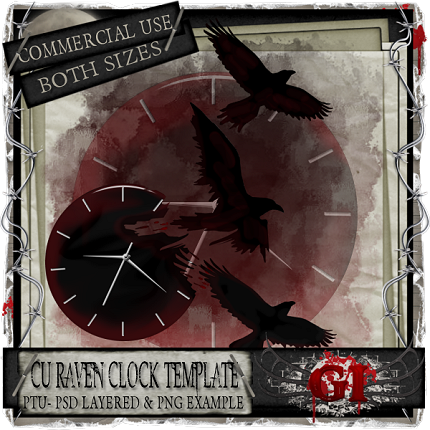 New: CU Raven Clock Template
Includes the 1 PSD Template for your alteration fun, it gives all the layers, to alter the colors, add to it very easily, change textures, etc. Another fun Gothic clock for your digital scrap kits or projects.

Available in FULL or TAGGER in one PACK You can choose what size suits you..

Hand drawn by myself. Quality Checked. Created at 300 DPI. Drop shadows on previews only.
No credit required but appreciated for my PTU Scraps. No alterations required needed for any of my
PTU CU products unless you own my CU4CU License and want to sell your own work.

Available right now at Gothic Inspirations Shop.

My CU Products are intended for digital online personal use scrap kits only.
You can view my T.O.U. Here.