Mom's Banana Bread Recipe

This is an easy recipe and comes out fabulous every time.

Growing up the memories I have she was always copying
her favorite recipes from her old worn
Better Homes Cookbook and always had her checkered apron on to match.

It wouldn't surprise me if it came from one of those earlier versions.
Even I have one in my house today, not worn, as my recipes cards are. But it's the visual of that cookbook that brings the most memories.

1 Cup Sugar
1/2 c. butter (I use margarine, 1 stick, softened)
2 Eggs (large)
3 Ripe Bananas
1 Tbsp. Lemon Juice
2 Cups of Flour
3 tsp. Baking Powder
1/2 tsp. salt

*Mix sugar, butter and eggs in a large bowl.
*Add lemon juice and banana's one at a time.
*Mix the flour, salt and baking powder in a separate bowl.
*Then slowly mix into your moist mixture.
*Grease & Flour your Loaf Pans
(Info on pan size is below).
*I use spray Pam, and then lightly flour them, shaking the excess flour out.

Fill about 2/3 of the way full. For the perfect loaves.
Mom always added 1 cup of chopped walnuts.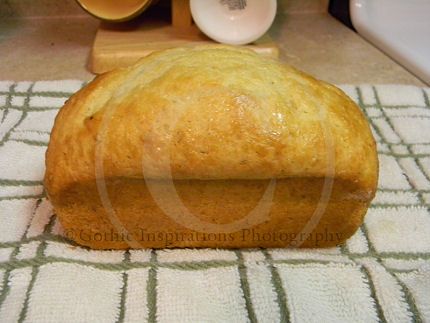 But I really love adding coconut and chocolate and it turns out amazing as well!
I usually always make one regular loaf of banana bread and then one "gourmet"
with added things. If you want to add coconut and chocolate like my photo:
Add 1 cup of (dried not fresh) coconut. I use Bakers, coconut sweetened.
and 1 cup of semi sweet milk chocolate chips (Nestle)

Makes 1 Medium Loaf Pan 1.5 QT (8.5 x 4.5 x 2.5) and 1 Small Mini Loaf Pan
Or 4 mini loaf pans.

Now bake at 350 degree's about 40 minutes (high altitude here in Colorado) for the large pans and about 25 min for the minis. Set your timer and check by inserting a toothpick. If it comes out clean with out anything attached like moist dough your good to go!

Let cool about 7 minutes, before removing from pan and buttering. Serve up warm with butter, or let cool. Turn out well if you want to freeze as well. Eat usually within a couple of days as the bread is very moist unless you freeze. Hope you enjoy the recipe.

Slice of Banana Bread with coconut & chocolate. Picture didn't turn out as well as I'd hoped but I ate it, so no more pictures! Lol.



Loaf Pan Size Difference: Medium to the Mini.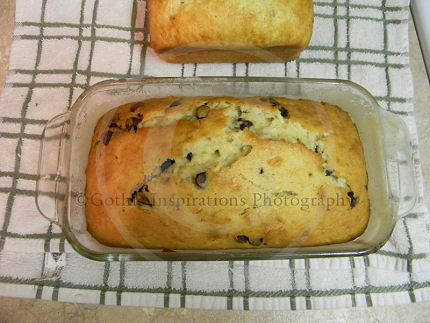 Mini Loaf: Mom's Banana Bread



Mini Loaf Top View: Mom's Banana Bread