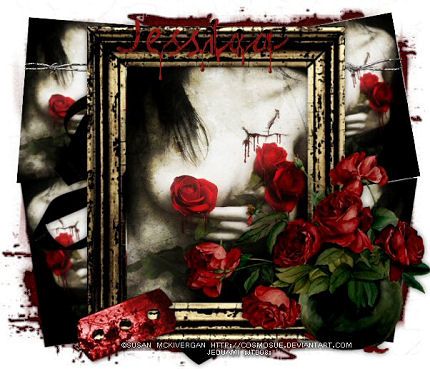 Tag above is by my girlfriend Jessica with Jessica's LaLa Land. It was created using my retired now free Bad Diva Kit created for another girlfriend of mine: Chloe.

♰A Spell♰
Healing Aura By: ElementEarth
"This aura were my magick flows, i bid it now to do as told.
Use all my energy to heal my friends, and bring life back into their hands!"
Use this when you know a lot of people that are hurt.
Spell is from: The Magic Place To Be.

♰A Favorite Quote♰
A final comfort that is small, but not cold: The heart is the only broken instrument that works. ~T.E. Kalem
*R.I.P. Kalem, may your quotations continue to be remembered through out time as this quote continues through me.

♰A Random Thought♰
I thought of the old movie, The Princess Bride today.

♰A Highlight Of My Day♰
A pineapple flavored lifesaver. It reminded me of a tropical getaway.





♰A Gothic Inspirations Poem/Quotes♰
Today I thought of someone, it could have been anyone.
I know I miss you, it could have been you, even when I'm not blue.
A friend still today even if only in my own eyes,
even amid others lies, a strong demise.
I know people will talk, strangers will stalk.
Unable to rid of that road block.
Forgiveness is hard to come by, sometimes I cry,
but never meaning to pry.
Friendships can be ever hard, they can take you off guard.
We all make mistakes amid each others heartaches.
Human nature by fault, can seem like a meaningless assault.
I can't say I won't hurt you, as that would be untrue.
I wish I could revert the things I didn't or did say,
rewind, fast forward and hit play.
I can't say I won't disagree with you,
sometimes I wouldn't even want to be in my own shoes.
Silence can be ruthless but sometimes words are useless.
I know I can be difficult person and make things worsen.
I know I'm brutal in my honesty, it's my direct policy.
I know my sarcasm can be taken the wrong way,
it can even seem as if it's me keeping things at bay.
I know I can be cheesy and even a little bit sleazy.
Can be sweet, but I also can mistreat.
I can be thoughtful and kind, and sometimes even ugly inside.
It isn't me asking for you back, or for your feedback.
Thereby it's just me saying goodbye.
I'm a white witch against all hateful thinking,
but also bitter sweet and miserable in my own bleeding.
A spell casting white witch, forgetful in one timeless glitch.
I dance under the moon, unwilling in tune,
neighbors will complain but I'm not going to change.
A naked lost soul, at high noon as that is just how I roll,
and it's both of us that will pay the toll.
You might catch me smiling amid my broken being.
A cover to make me feel better from being lonely.
I make the most of my bitter moments
and a roast of my happy torrents.
I don't know who I will be in the future
as we always change, but I understand I can be strange.
So today I stop...even for a brief moment adrift,
absent within my torment brutal and swift,
Just to say there isn't a day I don't think about you,
but somehow I'll make do, but my pain is true. ©Gothic Inspirations

♰A Song♰
Ghost In A Machine,


Blessed Be, Jessica