Ok the Tagger Challenge has officially started!!

This is a Bad Diva Original Idea: TUT GONE WRONG. NO you DON'T have to write a tut!! You have to make a tag from the tut and MESS IT UP!! Lol.

The idea of the challenge is to make a similar "messed up" tag from the tut provided using the tutorial.
Everyone voted on the poll and it was such a close tie, but April Showers Brings May Flowers won out! Lol. So you get to work with that for a week.
Please Do NOT share this kit, please use it for your personal use only and please join the challenge if you are snagging it. This is given as a gift to those participating and it is a PTU kit.

Rules:
1. You must leave a comment when you snag the kit from 4shared, stating you have snagged, make sure to state who you are or leave a comment to this post that you've snagged if 4shared is giving you hell.
2. The general aspect of the tutorial layout must be used.
3. One image/tube must be used.
4. Please use copyright compliant images with copyrights shown.
5. Several items out of the kit must be used.
6. Screw it up...make it gore, dark, gothic, but it must be original and creative.
7. You can add additional "outside" elements to your tag, but MUST use several out of the kit as well.
8. You must make a tag for me with Jessica on it.

Ok I think that is it!
I will have 5 Judges judging you by:
Qaulity,
Creativness,
The Theme: Tut Gone Wrong (Gothic/Gore/Dark/Mysterious),
The way you have screwed up the tut but yet still used the general idea,
Amount of Items you have used from the kit...
Etc.

EMAIL YOUR RESULTS WITH TAGGER CHALLENGE RESULTS IN THE SUBJECT LINE TO: jessicawoods1@yahoo.com

CHALLENGE closes MAY 17th. Winner will be chosen on May 18th with prizes given that evening
Prizes will be sent to the email provided on what you prefer.
1st Place:
$10.00 to your favorite scrap store or tube site.
2nd Place:
$5.00 to your favorite scrap store or tube site.
3rd Place: Tube and my Tut Gone Wrong Tag with your Name.

April Showers Brings May Flowers Kit: EMAIL ME AND I WILL SEND IT TO YOU IF YOU PLAN TO PARTICIPATE. EMAIL ME WITH TAGGER CHALLENGE KIT IN THE SUBJECT LINE TO: jessicawoods1@yahoo.com

Spring Time In Central Park Tutorial Link: HERE

Spring Time In Central Park Tutorial Preview: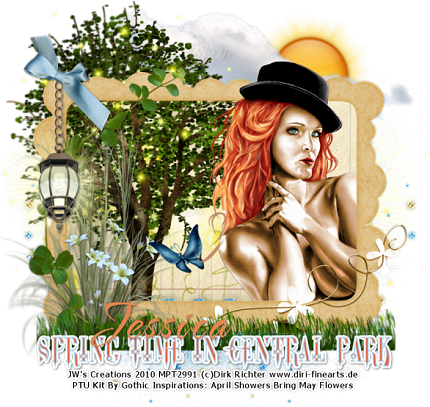 My Spring In Central Park Tut Gone Wrong Example, just to give you an idea...