Jill
with
Created By Jill
and I,
Gothic Inspirations
have teamed up to bring you a different view of Christmas! And WE ARE NOW selling our Collab together at Digital Chaos! So you now can snag the best gothic collab at two places!!
THE DARKER SIDE OF CHRISTMAS-A UNION COLLAB
From the creative minds of
Gothic Inspirations
and
Created By Jill
comes a MEGA wicked collaboration combining our "The Darker Side of Christmas - A Union" tagger kits! You get 32 - 800 x 800 papers and 188 elements to create those "darker" holiday tags with (and those gothic themed tags all year round!) This is a collaboration not to be missed! Save money with this great set!
Click a blinkie below of your choice to purchase this wicked gothic collab now at 30% Off!!

Preview of my portion below.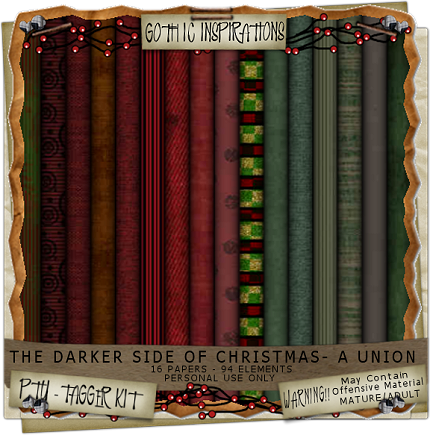 Preview of Created By Jill's portion below: