Now's the time to save even more!! Grab the grab bag for only $3.00, add all you want of my goodies at 43% Off, when you've hit $15.00 worth of goodies, go to check out, and add the coupon code below!! Score TONS OF GOODIES for only $10.00!! Come shopping and enjoy the best little ol' Gothic Inspirations can provide!! Xoxo
Click the blinkie to shop now!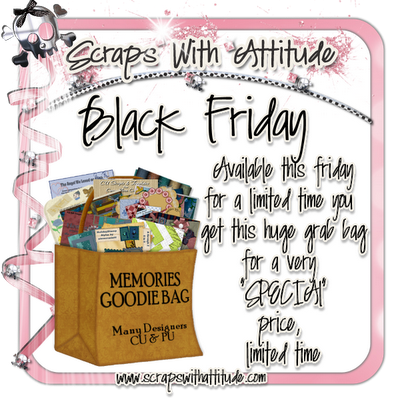 DON'T FORGET YOUR BLACK FRIDAY WILL BE BETTER THAN EVER!! USE my coupon code below and save even more on your goodies!
Whoohoo! It's time for a $5.00 Off Coupon! Spend $15.00 on anything of mine in one shopping trip at Scraps With Attitude through the 10th of December AND SAVE $5.00 OFF your order immediatly by placing in the code: HolidayGoodies09 at checkout. I JUST LOVE SAVINGS AND SHARING THE LOVE! Happy Holidays!