One of my FAVORITE THINGS is this $1.00 Sale for 1 Hour!! Want my CU items? This is your only chance during these 1 hours sales to snag them for only $1.00!!

Store Wide $1 for 1 hour sale!!
Sunday, September 13th
2:00pm-3:00pm Central
1:00pm - 2:00pm Pacific
3:00pm - 4:00pm Eastern

And if you buy them, and want special permission to use them for CU4U, email me that you've purchased them during this time on that day and I will give you permission to use them and re-sell them with your own license number!!

Click on the blinkie below to visit now and scope out your items!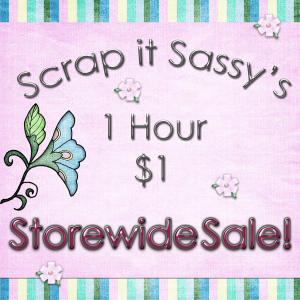 *Only exclusions will be my Grab Bags, but you can snag those at 50% off right now!