Another blog train is hitting the station on the 30th!

Make sure to stop by and snag all your Easter goodies for free, I'll have a free taggers mini kit up! And who doesn't love freebies!

If you would like to visit and check out the designers contributing just click on the blinkie below. :)




PREVIEW OF MY CONTRIBUTION THAT YOU CAN SNAG ON THE 30TH!
Please keep in mind once this train starts my Luck of the Irish Blog Train freebie will stop, so snag while you can.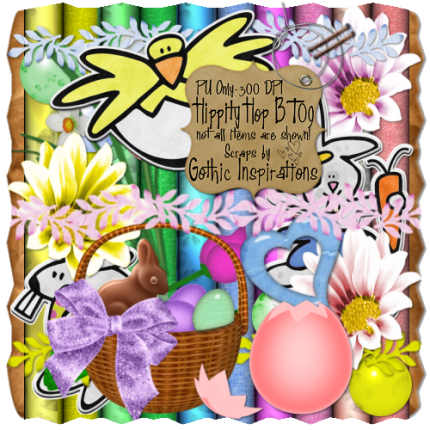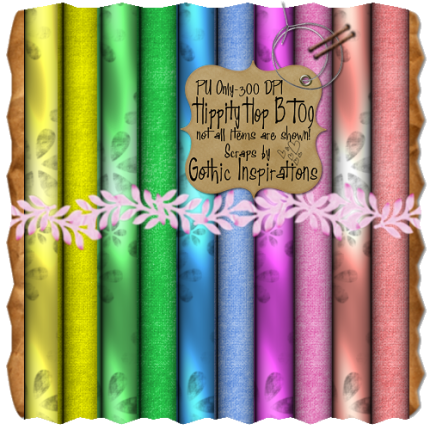 SNAG MY FREEBIE HERE, PLEASE SAY THANK YOU IT'S APPRECIATED:GothicInspirations_Hippity Hop BT.zip

FOLLOW THE BLOG TRAIN HERE:
Angel's Designz
TTs Creations
Made By Justine
Simply Irresistible Scraps
KiKeKa Kits
Country Hollow Creations
Creationz by Jo
Classie Creations
Gothic Inspirations <---You Are Here
Crazy Lady Scraps
Crazed's Creations
Cazie's Designs
Confessions of a Scrap-aholic
Designs by Pebbles
Hutch's Baby
Scrapping Kittens
JayaPrem's Hangout
Seachell's Scraps
Designs by Regina
Crazy Cakes Scraps
Kita Designz
Knittin Jen
Julie's Jems
Artlor Designs
Urban Mermaid Designs
Southern Scrapz
Moos Scrap World
Channi Ds Scraps
Foxys Designz
Joyful Moments Designs
Aussie Scrap Designs
Country Girl Creations
Digi Cats
Captivated Visions
3 + 1 Scrapping
VanJo Designs
Queen Brat Designs
Jaded Delusions
Purple Dragonfly Creations
Creative Intentionz
Morgaine Creations©
Crystals Crazy PSP
Rockins Ruckus
Heartfelt Perfections
Marlenies Scraps
The Maltese Scrapper
Ann's Scrap
Patz Scrapz
The Cats Meow
Connie's Creative Chaos
Linda's Dream Designs
Designs by Teri
Candy's Treasures
Foxylady Creations
Blue Velvet DeZigns
Rachel's Expressionz
Designs by Kelly
Marsha's Scraps
Bits n Bobs
Twin Mom Scraps
GBL Creations
Digi Scrapbook Mania
Kolor Scapez Freebies
Damsel Designs
Colleen's Creative Scraps
Tiggs Scrap Designz
Baby Cakes Scraps
Scrapper Girl Designs
Lady Snowflake
Sharon's Creations
Bel Vidotti Scraps
DMK Designs
jbs2designs
Scrappy Designz
Graphics by Poka Dot
Badazz Designs
Desejos & Sonhos
ASwtlyre Creation