I am so wicked proud to be a part of this Taggers Christmas Blog Train! It's my first, thank you to my fellow scrappers for letting me join. Muahh!
Please say thank you, either by replying to this post or on 4Shared. I know 4Shared now requires your ass to log in, but it means the world to hear a thank you for my hard work! So I hope you'll make my day. Huggers!
My portion of the train includes a Christmas Calendar, tags, ribbons, word art, and Christmas bottle caps, a Christmas stocking, flower, holly, 2 pattern star blings and 8papers! I hope you all like my contribution!
PREVIEW: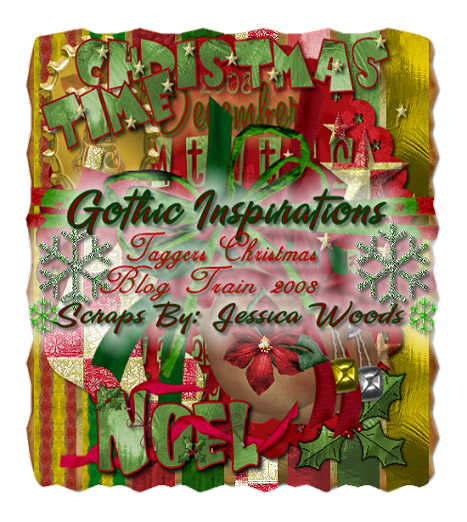 ~LINKS HAVE NOW EXPIRED~You can still get this free by purchasing my Christmas Cheer Scrap!
It's currently on Sale for $2.00 right here on my blog! Please look for the paypal purchase option down on the right of my blog
Or you can purchase at:
Scrap it Scrappy
Ok now I hope I have everyone!! The rest of the blog train here, some now may have also expired there freebies and may have them for sale:
Bits N Pieces of GBD
Black Cat Scraps
Bits N Pieces of GBD
Captivated Visions
CrystalBelleMomoF4
Created By Jill
Cre8ive Creations
Designs By Ali
Designs By Bittersweet
Designs By Helly
Pimp My Tags
Girfriend Designz
Honored Scraps
HBS Faith In Christ Scraps
**YOU ARE HERE**Gothic Inspirations
Harry and Tates Mum
JIC Creations
Julies-Jems
lafleurstuffs
Laneys Scrappy Moments
Miss Lady Hawke
Mz Mouseys-Creations
Norms Baby
Purple Dragon Fly Creations
Rachels Expressionz
Rockins Ruckus
SNM Creations
SameTradeSigns
Sgrowe Designs
Scrappy Deesignz
Scrapping Bits
Scrappy-Lover
Scraps By Jessica
Serenity Sheri
Southern Scrapz
Tantrum Scraps
TCS Sweets
Twinky Dezines
Twisted Angels Scrap Kits
Urban Mermaid Designs
VMoore Designs
Whisprd Dreamz
Wench Designs
Sweetie Peas Scraps
Sugar Kissed Scraps
Shiloh Shepherd Breed
Shan Mom to 4
Taggers Scraps